Pandora is one of the biggest music streaming platforms out (and also one of the first). They're not in the media as much as Apple Music or Tidal, but they're just as important. As of July, 21, 2016 – Pandora has over 78 million active listeners on their platform and despite competitors like Apple Music & Tidal popping up, they're still growing.
Regardless of what your favorite music streaming platform is, Pandora is not one to forget when promoting your music. Their process takes more work than getting your music on Apple Music or Tidal, but with 78 million active listeners – it's worth it.
So, here's how to get your music on Pandora:
1. Create an account
The first thing you'll need to do is create a regular account on Pandora. This account is necessary in order to access the music submission forms that will allow you to submit your music
2. Go to the submission form
Once you've created a regular account, you can now access the music submission form. This submission form can be found by going to: submit.pandora.com
3. Complete the submission form
Completing the music submission form will take a few minutes and is the most time consuming part of this process. There are 3 screens that will ask for different information about you and your music. I've listed this information below so that you can be prepared.
Contact information
Your first & last name
Your phone number
Your role

Artist
Manager
Label
Other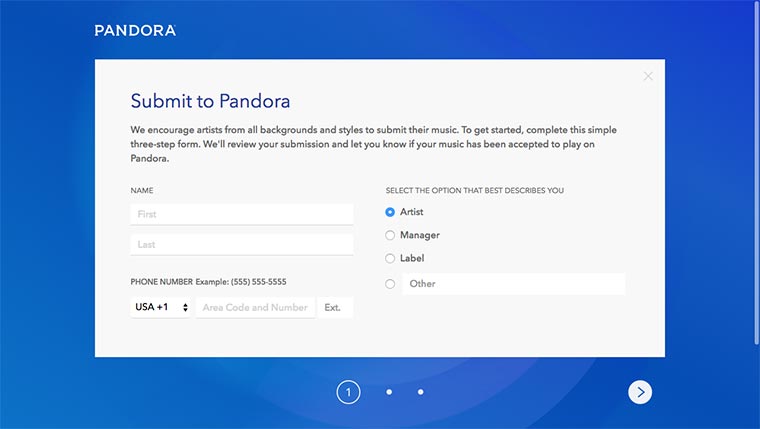 Submission Info
Artist information
Artist name
Link to artist's biography
Release information
Link to purchase on iTunes, Bandcamp, Amazon, or CD Baby
Name of the release
The type of release (the options include Album, EP, or Single release)
Release Year
Label Information
UPC Code Information
Genre
Song Information
Song title
Link to the song
Additional information you'd like them to know about the song
4. Verify and submit
Once you've successfully filled out all of the information in the music submission form, you'll be asked to verify your account. This verification process is extremely simple and only requires you to re-enter the password to your account.
5. Wait
After verifying your account and submit your music, all you can do is wait. Similar to getting your music on other music distribution platforms, if you don't hear back from them within 1-2 weeks – make sure you follow up with them.
Things Worth Tweeting