Why You Need To Make A Music Website:
Most hip-hop artists are relying on social media heavily. The problem with doing that is that your social media accounts could be deleted at any moment, for any reason– and guess what happens to all of those followers and likes that you've been working so hard to get?
Hint: It's like they never existed in the first place and there's little you can do about it.
Even if your social media accounts never get deleted, they eventually fade away and take your stats with them. Remember Myspace?
This lack of control is one of the main reasons that your website should be your main platform. It is one of the only platforms that you'll actually own and fully control. Other platforms like your social media accounts should be used to connect with your fans and funnel them into a platform that you control (Ex. Your website or email list).
How To Create A Music Website (60 Second Overview):
Creating a website is a lot easier (and cheaper) than most music artist think. Don't get me wrong, some websites can cost several hundred to thousands of dollars depending on what you're looking for. But, you don't need one of those websites to get you started.
To make this overview quick and simple, I'm going to tell you exactly how to create your music website without going in-depth. This will give you an idea of what is required and allow you to skip over any sections that you're already familiar with.
Here's how you create a hip hop music artist website:
Purchase your domain name (ThisIsADomainName.com) from Godaddy.com / Namecheap.com
Purchase your website hosting from Hostgator (Use Coupon Code -> ArtistShortcut <- to get your first month for $0.01)
Forward your domain nameservers to your website hosting account
Install wordpress in your hosting backend (Should be cPanel for Hostgator)
Find a free WordPress theme or purchase a WordPress theme from Themeforest.net
Download and install the wordpress theme
Customize the theme to fit your preference.
I've built most of my websites, including ArtistShortcut.com using this exact same method.
How To Make Your Own Music Website For Hip Hop Artist (Detailed):
1. Purchase Your Domain Name:
A domain name is the "ThisIsADomainName.com" part of the URL. It's basically your website's internet address. Once a domain name has been purchased, no one else can purchase it until it expires (unless the owner renews it). You can purchase your domain name from websites like Godaddy.com or Namecheap.com. I have used both companies and haven't had any problems with my domains.
Domain names can be purchased for relatively cheap. You should expect to spend $10-$20 per year for a domain name. I'd also recommend searching online for coupons from whatever company you chose to buy your domain name from. I've purchased domain names for as low as $0.99 for the first year.
2. Purchase Your Website Hosting: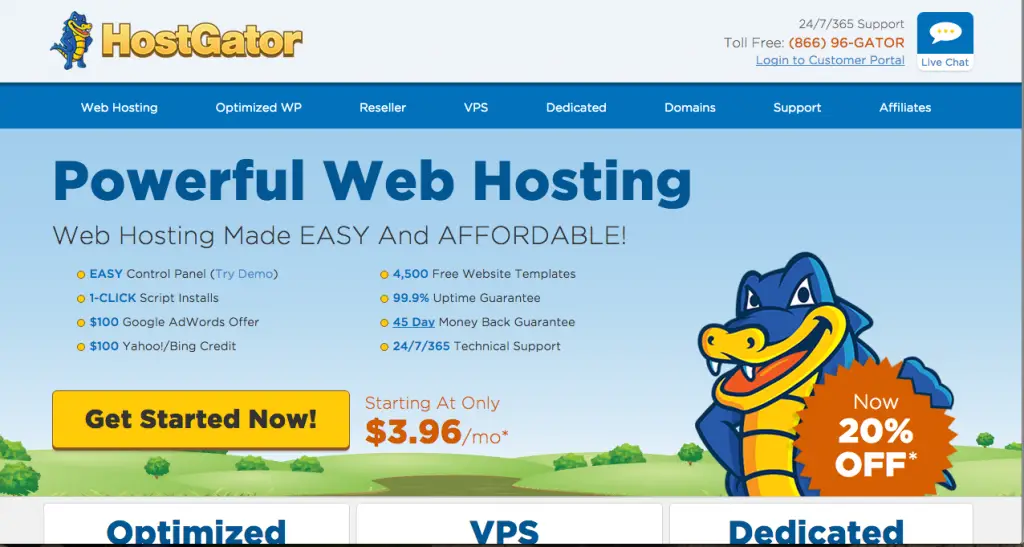 Website hosting is like your domain name's home on the internet. It's basically a computer that is connected to the internet 24/7 and companies rent that space out to people like you and me. For most of my websites, I've usually used Hostgator.com and haven't had many problems with them. You can purchase a basic hosting plan for about $8 to $15 per month.
(Use Coupon Code -> ArtistShortcut <- to get your first month for $0.01)
Some people will tell you to sign up for the more expensive VPS plans or what not, but it's not necessary for most small-midsize music artist. A basic hosting plan will not only be sufficient enough to get you up and running, but will save you a little extra money as well.
3. Forward Your Domain Nameservers Over To Your Hosting:
By now you should have your domain name and your website hosting, but you're not done yet. The only way for your website to live on your hosting account is if you forward your DNS (Domain Nameservers) to match those in your hosting account.
Ayo Darius, what the hell are nameservers and how do I forward them? Don't worry, I'm going to show you show you everything you need to know.
What nameservers are (basic explanation):
Your nameservers basically tell your domain name where to live. Once you purchase a domain name, it usually uses the nameservers of the company you purchased it from. This is why we change them to match your hosting account's nameservers, because we want your domain to live on your hosting account. Make sense? If not, use the comment section below this post and ask any questions. I'll make sure to answer them to clear things up for.
How to forward your Godaddy domain nameservers over to your hosting (VIDEO):
4. Install WordPress onto Your Hosting Account:
Installing WordPress will create the basic structure and functionality for the website you're creating. WordPress is a FREE CMS (Content Management System) that makes updating your website a breeze, even if you're not a website designer or programmer.
To install WordPress, you need to:
Log into your Hostgator account's cPanel and scroll down until you see the "Software and Services" section.
Click on the "Quick Install" icon .

Look for the "Popular Installs" section in the left sidebar and click on WordPress.

 Complete the form that appears


This is the base domain where WordPress will be installed
This is the sub-directly **LEAVE THIS BLANK**
Enter the email that you want your login info sent to
Enter the name of your website (Ex. [Artist Name]'s Official Website)
Enter what you'd like your login username to be
Enter your first name
Enter your last name
Install WordPress.
Your WordPress site will begin to install itself. Once finished, you will receive a notification, as well as an email containing your username, password, and the login URL. After logging into your account, make sure you change your password.
How To Change Your WordPress Password:
Go to the "Users" section inside your WordPress admin.
Click the "Your Profile" tab.
Scroll down and change your password
5. Purchase a WordPress Theme:
While you can find free wordpress themes all over the internet, I'd recommend purchasing one. You'll usually find much better themes this way. Themeforest.net has a ton of wordpress themes. Most of which have a good amount of customer reviews. This way you can search for a few themes that you like and then narrow them down based on customer reviews, design, etc..
6. Install The WordPress Theme
Installing the wordpress theme is pretty simple. After purchasing it, you'll be able to download a ZIP file that contains your theme. Download the ZIP file and extract it. Inside, you'll usually find 2 folders; 1 with the main theme and 1 with the "child theme". Not every theme will follow this layout, but many do. So for now, just ZIP the main theme folder back up.
How To Install Your WordPress Theme:
Go inside your WordPress admin and go to the "Appearance" section.
Click on the "Themes" tab.
Click on the "Upload" link that is next to the "search" link
Upload the ZIP file
And there you have it, your theme is uploaded and will ask you if you'd like to activate it (Yes, activate it).
7. Last, but Not Least – Customize The Theme:
Customize your WordPress theme. Every theme will have a different method of customization. It usually involves a tab appearing inside the WordPress admin left sidebar. But, however it's done, it's usually straightforward and simple. Most themes will have documentation and a support forum for you to look at and participate in if you find yourself getting stuck.
So go crazy and get your theme to look exactly like you want it to.
Any Questions?
I hope this guide has helped you create your hip hop music website. If you have any questions, don't hesitate to ask using the comment form at the bottom of this post and I'll respond as soon as possible. Thanks!